S E R V I C E S

THE HEALTH SERVICE
Our Residential Home has a convention with the Italian National Health Service.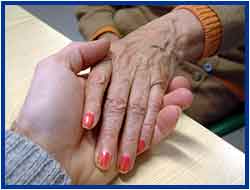 THE MEDICAL SERVICE
Our Medical Service is composed of a Geriatrist, a Surgeon and a Psychologist, and it is operative every day except on Sundays (in this case a doctor is always available). The Service takes care of each single guest, and, whenever it is necessary, it refers to specialists like Neurologists, Orthopaedists, Internists.

THE NURSING SERVICE
The home offers a highly qualified nursing service which is operative 24 hours a day and provides the guests with the most thoughtful medical care.

THE PHYSIOTHERAPEUTIC SERVICE
In order to guarantee a better quality of life for all the guests, they can avail themselves of a physiotherapeutic service six days a week.

GENERAL CARE
The O.S.A. staff is responsible for the general care of each individual and they are willing to satisfy every demand. In order to offer a better care quality, each guest can refer to a tutor for any need.

THE RECREATION SERVICE
We want our guests to spend their time in a joyful and active way, that is why we have taken on some qualified people with the task of organising recreational moments. These activities include games as well as tasks deemed to help people not to loose contact with the reality like, to give an example, art-therapy.

The foresaid activities aim at keeping the cognitive qualities of our guests alive and they vary according to the season. In wintertime they take place in the common rooms inside the building whereas in summertime in the wide green spaces outdoors.

On demand it is possible to assign small plots of land to those guests who wish to grow flowers or a vegetable garden.

The orientation programme includes also either cultural or recreational short trips in groups to offer a further occasion of pastime.

Finally, a special mention goes to the drama-group formed by our guests-actors.

---
Coop. Padre Semeria - Via Padre G. Semeria, 35
19016 - Monterosso (SP) - Tel. 0187 817514 - Fax: 0187/818192
consorziosemeria@gmail.com
Privacy policy